Book Release
Escapism: Words + Photos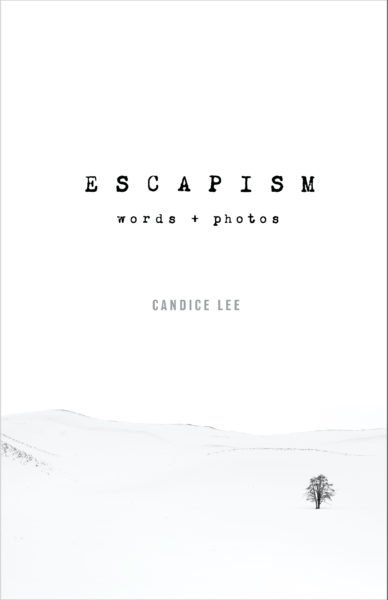 Available now in hardcover and paperback format:
Poetry and photography
by Candice Lee
Synopsis:
This is a story about love and loss. This book is a collection of poetry and photographs–all written, shot, and arranged by the author.
Composed in the style of a memoir, the author shares her stories through words and photos. This window into her emotions reveals the raw, messy, and human-nature process of grieving. It's about the dark side of love as it narrates the journey through relationships, friendships, it's-complicated-ships, and self-identity. The trek is empowering as she struggles through heartaches and numerous trips to isolation in order to find herself. But really, it's a story about finding beauty in pain, through growth.
From the author:
"Everybody hurts. But not everyone is willing to share their pain from weak moments. It's difficult to put it all out there. I believe, these are the moments that mark beginnings of transformation. I hope this book helps people feel a little less lonely and a little more inspired. We all feel it."

Also, check out our post: About the Author